3D2N EL NIDO package                                                                            (Hotel + Airport Transfers)                                                                      Travel Period: Until Dec 15, 2019 (except Festivals, Christmas Season, Chinese New Year and Holyweek)
Inclusions:                                                                                                                                                                                                                              3D2N Hotel Accommodation with bfast
Round trip Transfers (EL Nido Bus Terminal – Hotel – EL Nido Bus Terminal) via tricycle
*Add P1,800/person for round trip transfers (PPS Airport to EL Nido Hotel or PPS Airport to EL Nido Hotel)                                                                                                                                                                                                                                                    Important Note: room rate is based on cheapest room category hotel check-in is 2:00pm and check-out is 12:00pm.                                                                                                                                                                                                                                   El Nido Environmental Fee P200 is not yet included
 Itinerary:                                                                                                                                                                                                                              Day 1: Arrival at PPS Airport, optional Add P700/person for one way transfer (PPS Airport to EL Nido Hotel)      Or commute on one arrangement going to EL NIDO BUS TERMINAL,
Day 2: Breakfast, free time or join optional tours
Day 3: Breakfast, hotel check-out, optional Add P700/person for one way transfer (EL Nido Hotel to PPS Airport) or commute going back to PPS Airport
Hotel Name and Location
Category
Travel Dates
Published Rates per person
3D2N Package
Extra Night
Quad
Triple
Twin
Quad
Triple
Twin

Jurias Pension / Desert Rose

2-star

Until December 15,  2019

2,250

2,400

2,600

1050

1100

1,200

Casa Cecilia

2-star

Until December 15,  2019

1,950

2,100

2,400

900

950

1,100

Marina Garden Resort (Beachfront)

3-star

Feb – May 2019

3,650

4,650

1,750

2,250

Jun – Sep 2019

3,350

4,200

1,600

2,000

Rossana's Pension (Beachfront)

2-star

Until December 15, 2019

3,450

3,800

4,500

1,400

1,600

1,950

El Nido Cove Resort

(add 2000 for RT transfer)

3-star

Until December 15,  2019

7,500

7,900

8,300

3,700

3,850

4,100

El Nido Garden Resort

3-star

Until December 15,  2019

6,850

7,050

2,700

3,250

 

Child with bed (w/ bfast)

same as adult

same as adult

 

Child no bed (w/o bfast)

1,100

0

OTHER HOTELS ARE ALSO AVAILABLE FOR QUOTATION
OPTIONAL TOURS per person rate
Joiner

One Way Van Transfer (Puerto Princesa to El Nido Bus Terminal or vice versa)

900

EL NIDO TOUR A with LUNCH: (8:30-9:00am pick-up time) Small lagoon, Big  lagoon, Simizo Island, Secret lagoon and Seven Commando

1,200

EL NIDO TOUR B with LUNCH: (8:30-9:00am pick-up time)

Opt. 1:

Snake Island, Pangalusian Island, Cadugnon Point, Pinasil Island, and Cathedral

1,300

Opt. 2:

Entalula Island, Snake Island, Codugnon Cave, Cathedral Cave, PInagbuyutan Island

1,350

EL NIDO TOUR C with LUNCH: (8:30-9:00am pick-up time)

Opt. 1

:

Helicopter Island, Tapiutan Island, Matinloc Island, Star Beach, Matinlok Shrine

1,400

Opt. 2

:

Hidden Beach, Matinloc Shrine, Star Beach, Secret Beach, Helicopter Island

1,450

EL NIDO TOUR D with Lunch : (8:30-9:00am pick-up time) Cadlao island, Nat Nat beach, Paradise beach, Bukal Beach and Pasangdigan Beach

(Min. of 8 to proceed the tour)

1,200

Note: All tours are excluded of environmental fees & snorkeling equipments
Note: Optional tours can be booked at least 1 week prior to travel date.                                                                                    See ANNEX A for Tour Description
***ALL RATES ARE STILL SUBJECT TO CHANGE WITHOUT PRIOR NOTICE***
Annex A
EL NIDO TOUR A
Small lagoon -The Small Lagoon, despite being a small wonder of nature, offers a variety of beautiful crafts of creation. It looks like a natural swimming pool; private and isolated from the outer world, which gives a feeling of intensity. The water of the Small Lagoon is tranquil turquoise green in color, it's very clear, and even dazzles under the sun. The place is surrounded by big limestone cliffs, having greeneries growing on them, which stands against the greys. You can swim around as much as you want to. The water is comparatively colder than outside and is much more relaxing. There are many fish in the water and beautiful rocks to climb on, even to dive from the 2-3 storied height. But if it's the time of the year when it's raining all the time, the rocks would be slippery to climb on. The splendid view of the underwater would make you feel as though you're in a small paradise.
Big  lagoon – One of the many mentionable places in Palawan that you must visit if you ever have the good fortune of exploring the amazing glory of the islands of Palawan is the Big Lagoon in El Nido.
What is there not to see in Big Lagoon, should be the actual question. The beautiful, dark and deep forests surrounding the whites of the beaches; the clear, almost shockingly blue tranquil water of the sea; and even the pure white gold of the beaches are worth staring at. You will never run of things to explore in the Big Lagoon area. There is a vast array of wildlife present in Big Lagoon- the unique insects and crabs that seem to rule those lands, the extraordinary greenery surrounding the islands, the overpowering blueness of the sky and the water, the ancient limestone cliffs standing on guard on the island, the peaceful and calm atmosphere of the Lagoon all work together to transfer the visitor to a heavenly space of mind- one such that he feels enchanted by the beauty of the blue, the mysteries of the dark forests and the freshness of the leaves and sounds in the surroundings. You will be able to conduct a thoroughly unique nature study that will be, hands down, filled with all sorts of gems in your collection of wildlife studies because the Palawan has a lot of species of insects, plants, fruits, etc that are truly unique to the Palawan islands. So even if you are not a nature lover, give nature a study here in Big Lagoon, and you will surely find yourself transformed into a being with a deep-set core of love and gratitude towards nature and all the beauty that it holds for us to explore.
                                                                                                                                                                                                                                                    Simizu Island – also called Shimizu Island, is one of the numerous islands dotting Bacuit Bay in El Nido, Palawan. Simizu island is popular for its colorful marine life, so ready your snorkeling gear and appreciate the beautiful underwater scene
Secret lagoon – Miniloc Island's Secret Lagoon (also Hidden Lagoon) is actually an open secret, and a very popular one at that. Concealed behind the towering karst cliffs, the Secret Lagoon seems like a precious masterpiece that the dark limestone walls need to protect at all cost. If it's your first time in El Nido, make sure you don't miss this one.
Seven Commandos – Island was named after the 7 commandos who lived in the island, their names printed on the rocks at the island. El Nido is known for beaches and island views, And 7 Commando never fail to show it. It may not  be the best beach in the Philippines, but it can hold Its own. A typical crystal clear water, white sand island, Fresh Buko is available within the island. A good way to refresh yourself from scorching sun while enjoying the views.
EL NIDO TOUR B
Snake Island– The curving sandbar that extends off of Vigan Island gives it its nickname, "Snake Island". There's great swimming to be had off of both sides of the sandbar, but you'll only see this at low tide. The island is a 45-minute boat ride from El Nido town.
Codugnon Cave – One of these exciting attractions is Cudugnon Cave, a particularly amazing specimen of geological formations that has been found to have archeological value with the bones and artifacts found there.
Cathedral Cave – Situated in Pinasil Island in El Nido, Palawan, there is an open chamber at the center of the Island where you can see that it has a shape of a cathedral surrounded by high rocky cliffs. The greenish blue water may be inviting for a swim but take note that it is dangerous. Cathedral cave is also the home for several species which are very territorial venomous sea snakes so it's better to stay in the boat.                                        PInagbuyutan Island
EL NIDO TOUR C
Matinloc Shrine – Matinloc Shrine is an abandoned site hidden at the foot of towering karst cliffs on the western coast of Matinloc Island. More formally known as the Shrine of Our Lady of Matinloc, it was built in 1982. The place has been completely neglected (with the main building almost empty), but tourists are still allowed to visit. While others may find this as a spiritual oasis, most tours make a stop here for the view.
Star Beach – Another fantastic snorkeling spot. Here your guides will prepare a sumptuous lunch by the beach while you discover the wonders and beauty of the coral reefs near this island.
Helicopter Island- Dilumacad Island is a 20-minute ride from El Nido town. It's also known as "Helicopter Island" due to its helicopter-like shape when viewed from afar. The island is home to a long, dazzling white sand beach that beckons to picnickers and snorkelers. The seafloor's abrupt drop makes this beach slightly dangerous for children and novice swimmers.
EL NIDO TOUR D
Cadlao Island – With an area of 2,400 acres and a peak that rises almost 2,000 feet above sea level, Cadlao is the biggest island in Bacuit Bay. The island also possesses many other superlatives, like its curving white sand beaches, lush forest cover, and many other surprises.  Cadlao Lagoon's limestone formations and lush corals provide a magnificent setting for snorkelers.
Paradise Beach – Paradise Beach in El Nido deserves its name. It has powdery white sand, emerald waters that glisten, dancing coconut trees, and a middle-of-nowhere ambiance (if you're lucky enough to have it to yourself). It is part of Tour D, and it is the ideal destination for those who want to simply relax and unwind, wade in the waters, get a tan, or forget about all sorts of stress.
 Pasandigan Beach– The beach in Pasandigan is an area for snorkelling, swimming, and picnic lunches during island-hoping trips.
Natnat Beach -With its many attractions, it is possible to spend the entire day at the island beaches of Bacuit Bay. The long stretch of white sand beach is perfect for sunbathing and offers the best view of the sunset. In the waters fronting the beach are clusters of coral reefs that make Pangulasian a good snorkelling and diving site.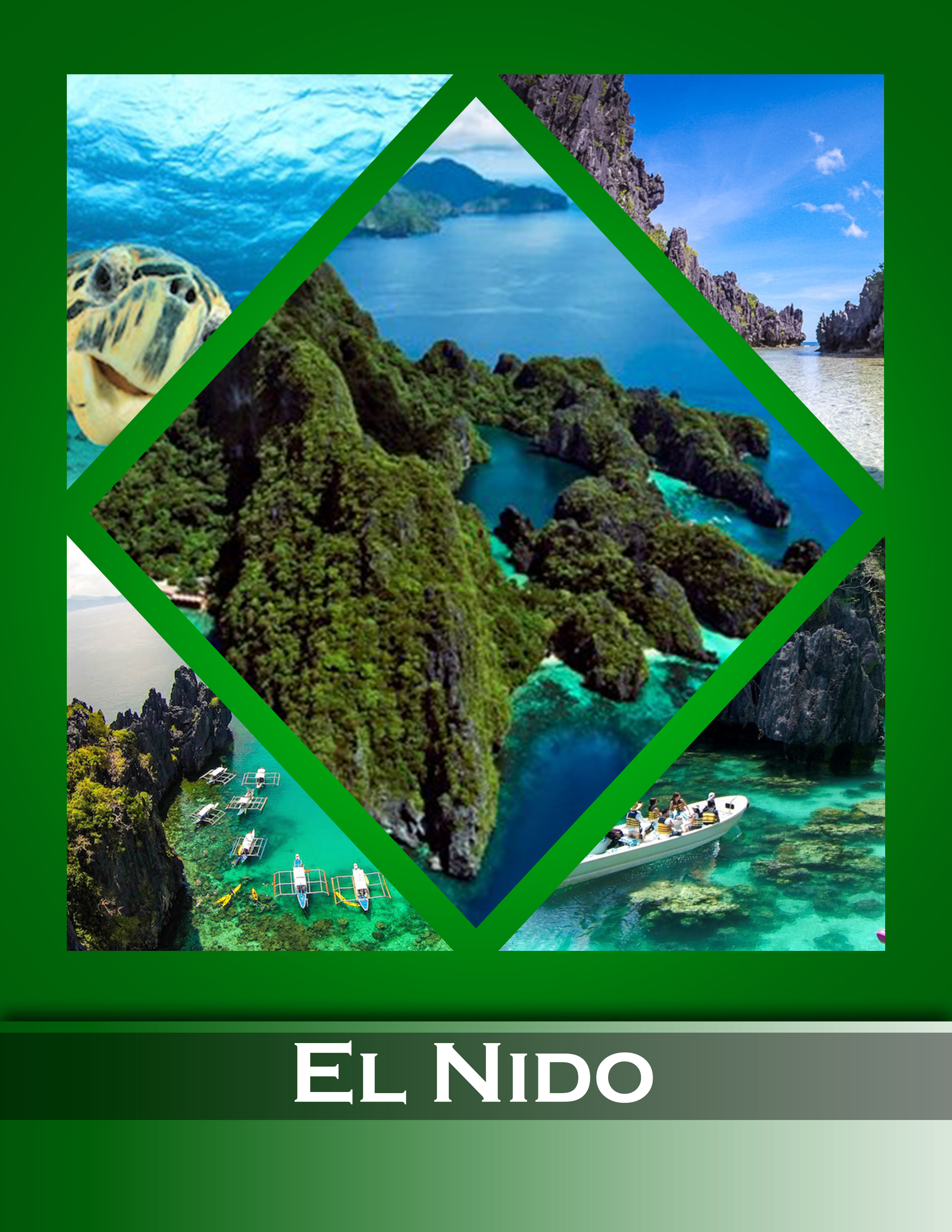 Booking Procedures:
Kindly complete in information below and email to

mjtravelbuddy@gmail.com

to reserve your booking.
>How many pax: eg. 4 pax
>Preferred hotel:EL Nido Garden Resorts
>Room type: Quad sharing x 1
>No of adults and child: eg. 2 adults and 2 children                                                                                                                                                                                                                                                                                                             >Travel dates: Oct. 23-25, 2019                                                                                                                                                                                                                                                                                                                                                      >Flight details (estimated time of arrival and estimated time of departure): ETA is 7:05am via Cebgo6041 and ETD is 1:40pm via Cebgo6052                                                                                                  >Mobile number: eg. 0999-888-4444
2.Package can be reserved for 1 day. It is advisable to book 1 month prior to travel date. Once reserved, you may settle your payment .in MJTB bank accounts.
3.After payment, immediately forward the PROOF OF PAYMENT or the DEPOSIT SLIP for verification.
4.After verification, we will finalize your booking. Your tour voucher or booking confirmation will be sent within 2 working days
 BDO Savings Account
 Account Name: MJTB Travel and Tours Services
 Account Number: 004430456804
 Swift Code: BNORPHMM
 Branch: 443 Quezon Ave. San Fernando, La Union Philippines